It's time to bring high-speed fiber internet to Shutesbury!
Project completion goal is 2019!
Page Contents (Click section name to go there)
WiredWest and Project Background
February Update: The 9x15 building (hut) that will house all of the electronics equipment to run our network was put into place at the Town Hall. The hut was delivered by truck and then a very large crane lifted it into place. It was an exciting moment and another step towards bringing broadband to Shutesbury!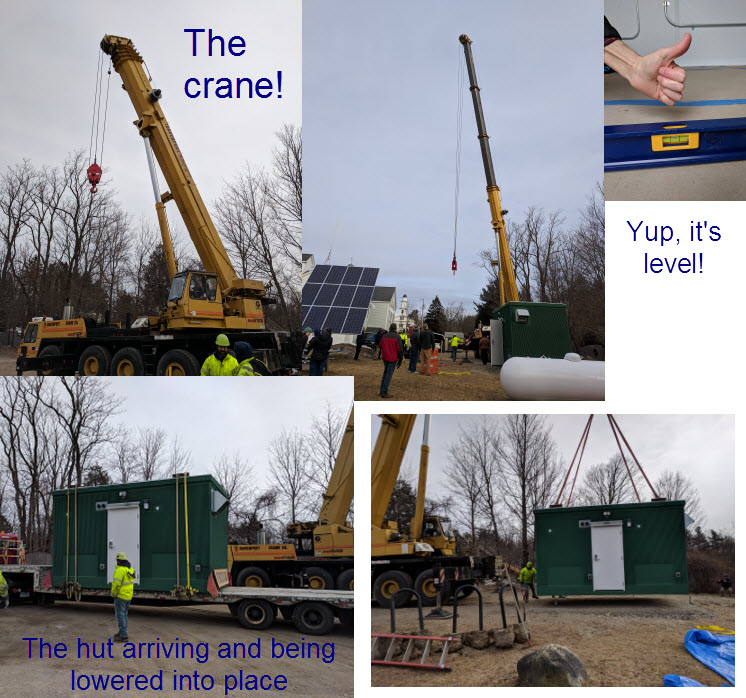 Hut_Pictures
January 20th Update: Announcing the Broadband Logo contest! Our town-owned network needs a logo and we're looking for your great ideas. We're holding a town wide contest for logo design. Any Shutesbury resident can enter. Entries are due on February 15th and will be chosen by the Broadband Committee. Get the full details here! Contest is also being announced in upcoming edition of Our Town and contest details will be available at the Town Hall and Library this week.
January Update: Happy Broadband New Year!
Today, January 2nd, construction started. You will see TriWire trucks working today on Wendell Road headed towards the lake. Trucks and workers will be on our roads over the next several months building our broadband network. Trucks will visit each road twice - first to put up the steel support cables then to hang the fiber optic cable on the support cable. Police details will be assigned for all main roads, but please be extra careful and aware when driving so we keep everyone safe.
When will we actually be getting broadband in our homes and will my road be first?
Installations to homes will start when the mainline is mostly complete, likely in May. The order of which areas get installations first will be determined by our builder relative to what is most efficient and cost effective.
How much will it cost and how do I sign up to get broadband installed in my home?
Stay tuned! We're getting final budget numbers and working out the details and final costs. When it is time to sign up we'll be announcing it widely throughout town and making sure all residents get the information you need to sign up.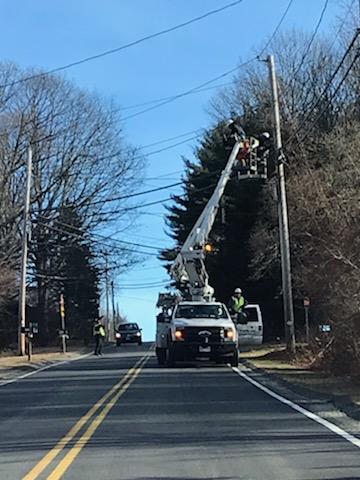 MAKE READY IS COMPLETE! Our long (long,long) awaited make-ready work by the utilities has finally completed for the mainline network. We can now build our network! Mobilization is in process and we'll start construction in January along roadways. Installations to homes will start when the mainline is mostly complete, likely in April/May. The order of which areas get installations first will be determined by our builder relative to what is most efficient and cost effective.
GROUNDBREAKING! Site work started today behind the Town Hall to get an area ready for our Broadband building. By March a small concrete structure will be placed on the prepared site. This building will house the electronics in a secure, climate controlled area with generator backup. This is one of the tasks we're doing in advance of the make-ready completing - see more on that below.
Special thanks broadband team members Steve Schmidt and Graeme Sephton for their work making this happen -  as well as the highway dept. This is our groundbreaking!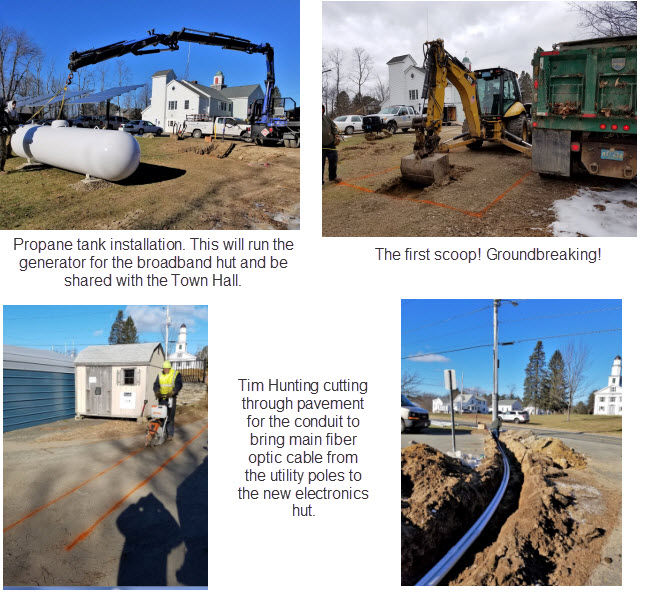 December Update: We are entering into contract negotiations with Crocker Communications for Network Operations and Internet Service Provider services. Crocker won the bid as the most advantageous and lowest price vendor according to the terms of our recent RFP. After negotiations have concluded and a contract is signed, we'll provide further details. We'll also provide full information and a template letter to get your $49 deposit back from WiredWest at that time. If you wish to get your deposit back now, you're welcome to do so. Visit their website here. Because the money has been held in escrow , you have to make the request individually in writing to get your deposit back. For legal reasons it can't be done as a group request or simply transferred over to project funds.
November Make-ready Update: We will STILL be getting broadband in 2019. But service will come to your homes in summer and fall. Construction will start in early spring 2019.
The culprit is Verizon. To stay on our spring schedule we needed make-ready work to finish up this fall. The delay is not entirely Verizon's fault since before them, it took Eversource and National Grid many months finish their parts. But now Verizon is the last gate to us starting construction.
We did our best over the last year to push the utilities using the political channels at our disposal. By working with the governor's office and their agents we WERE able to move the work forward but it still fell short. We have already filed a formal complaint with the Massachusetts Department of Telecommunications and Cable.
Note that this is a nationwide issue. Every telecommunications company in the country that wants to use utility-owned poles struggles with the process – including enormous companies like Comcast and Charter! The make-ready process is expensive, slow and inefficient and will not improve until laws change at the federal level.
We did anticipate that the make-ready work would be problematic and started the process over a YEAR ahead of other towns in Massachusetts. So we're still at the front of the line compared to other towns.
In addition we have completed all the parts of the project we can in advance such as securing all funding, executing an on-budget construction contract, and making sure all materials and 40 miles of fiber cable are waiting in a warehouse ready to be used for construction. As soon as Verizon finishes, we can start construction.
Verizon has given assurances that crews are being directed to Shutesbury to finish the licenses process and the Dept. of Telecommunications and the Governor's staff are aware of the problem and are working to make sure they stay on track.
We'll continue to post regular updates here.
Update 11/26 - The DTC complaint has gotten the attention of the utilities. Verizon trucks working on Pratt Corner Road today. Eversource and Verizon will be visiting the January Hills area of town later this week.
 Update 11/27: Eversource identified the electrical issue on January Hills Road this morning and a crew will be out later this week to remedy so Verizon can finish their work there.
NEW Update 12/6: Verizon should be seen in the January Hills area this week or next. We're also waiting on Verizon to get over to the Lake Wyola area to transfer their cables to the poles that were installed earlier this year.
November 2018: It's November and Verizon has yet to finish our make-ready work but we're doing everything we can to move other parts of the project forward.  By December we'll be doing site work at the Town Hall to prepare an area to accept our 9x15 electronics building and network hub. We've secured the services of a builder who is poised to start construction as soon as make-ready is complete - and the bid is on budget! There is only about 15% of the make-ready left to complete so we're hopeful that it will be done very soon. Our agents at Westfield Gas & Electric as well as staff from Governor Charlie Baker's office are aware of the Verizon delays and are doing everything they can to move this work forward.
October 2018: What about those underground installations?
We're committed to making sure all installations are done to proper standards for reliability and safety. We did an evaluation this summer of all underground-served homes and analyzed the results. We're recommending that everyone wait until Spring to take any action on their underground home installation. Here's why:
-Installations won't start till early Spring so rushing to get conduit installed now will NOT help you get broadband sooner
-Having a variety of contractors or homeowners perform this work on their own now increases the risk of work not being done to proper specifications.
-Homeowners or other contractors doing the work means we'll need someone on our MLP staff to answer questions and approve the work. It's a more efficient use of our resources to focus on getting the mainline distribution complete as soon as possible THEN focusing on home installations.
-We will be able to go out to bid for single contractor for many homes all at once this spring which will fetch a much better price and lower costs for everyone
-Having a single recommended contractor means we can streamline the sign-up process and get everyone service faster
-We'll likely be able subsidize some of your out-of-pocket cost for your underground installation when we know the total project costs after final bids come in this winter.
For those of you who will want to use your own contractor or perform the work yourself, we'll certainly allow that option if you follow the specifications which will be available this spring. Waiting until the spring means provide you correct and accurate installation specifications.
September 2018: This month we're reviewing both the construction bids and the RFPs for the internet service provider (ISP) who will be running our network after it is built. Make-ready work continues on Shutesbury roads and you've likely seen lots of Verizon trucks around town. As long the Verizon work can complete by November we can stay on track to deliver service this spring to all residents. We met with Governor Charlie Baker at the end of August and his officials are doing everything they can to help ensure make-ready proceeds as quickly as possible. At this juncture our project is on-budget and is poised to finish next year as projected.
August 2018: This month is a flurry of activity! We've put out the construction bid for the company that will be constructing our network, ordering our central hut to house electronics, and putting out an RFP for the internet service provider (ISP) and operator who will be running our network after it is constructed. We know many of you with underground installations are concerned about being able to install new conduit before the ground freezes and are doing everything we can to make sure we get information out about this for fall.
July 2018: Saturday, July 7th between 9AM and 1 PM we're doing a townwide evaluation for all homes that get their utility service underground. No need for you to be home! We're looking to see which homes will need new conduit installed and this will involve a simple visual inspection of your existing utility service. This information will be used to help plan broadband delivery to your home. We'll send out more information before fall about the results and what you need to do next.
Note this ONLY affects underground installations! Homes served with overhead lines attached to utility poles won't be visited since your broadband will reach you above ground.
Want to save us some time? If you already know your utilities are buried directly into the ground (no pipe or conduit) send an email to broadband@shutesbury.org. Put "No Conduit" into the subject line and be sure to include your home number and street address into the body of the email. **If you're not sure or think you might have usable conduit, please refrain from emailing. We'll just keep you on the list to come and take a look. Only let us know if you're sure your current utilities are direct buried.
What if I know I have an existing spare usable conduit – should I email you?
No, please let us come and take a look to make sure what you have is appropriate for broadband installation.
What if I have overhead (aerial) service and I want my broadband to go underground instead?
We'll have more information available about certified contractors who can install underground conduit for you this fall.
What if I'm one of the homeowners who needs to put in new conduit? How much will it cost and how will it be done and when?
We can't answer this yet. Saturday's evaluation is an important step to get the information we need to answer these questions. Our goal is to make sure broadband gets to all residents in the most affordable way.
What if I don't want broadband?
You are under no obligation to take service. It will be available for all residents who want it.
What do I do next? I really want broadband.
There's no action for you to take yet. After we've finished the design phase (happening now) and evaluated the factors that affect home installations we'll make widespread town announcements about how to sign up and what to do next – likely late this fall.
June 2018: Make-ready is continuing and our next step is organizing a townwide evaluation of all houses that have underground utility service to see if your existing conduit can be used to bring you broadband service. These evaluations will happen in July. Stay tuned for more information about this process that will be coming out by the end of June.
May 2018: Thanks to everyone for your support at Annual Town Meeting! We are working on the final draft of our network design with our project engineers. Here is the presentation that was shown at Town Meeting in case you missed it: May 2018 Town Meeting Presentation
April 2018: Make-ready is continuing now that the weather has improved and we received some great news from the state that the grant program is expanding to include make-ready overages. This is welcome news because the make-ready charges from the utility companies were much higher than expected. The additional funds will help keep our project on budget!
February 2018: Make-ready has slowed down a little due to the weather. We're working with Westfield Gas & Electric on our network design.
December 2017: Make-ready work has started in our town. Over the next three months you will see bucket trucks from Verizon, National Grid and Eversource out on our roads. These crews are preparing the utility poles to accept our fiber network. Please be extra cautious when driving since these trucks take up a lot of road space and our roads are even more narrow than normal because of snow banks. Be careful when passing to ensure that everyone stays safe.
November 2017: What's up with net neutrality and how will it affect our broadband project? Unlike most of the country who is at the mercy of their internet provider like Comcast, Charter or Verizon, Shutesbury will contract with an independent Internet Service Provider (ISP). Our ISP contract will include privacy and neutrality protections for Shutesbury residents. Towns and cities like Shutesbury who are building their own municipal networks will be able to provide these protections for residents because WE will own the network. Any FCC changes to net neutrality rules will not affect the build out schedule. On a separate topic, you may have heard that the state is making additional funds available for state-wide broadband. Shutesbury will be eligible for these funds if our project is over-budget.This additional money is a contingency to help communities who need it. We are in regular contact with state officials who are monitoring our project closely and will do everything we can to get a portion of the additional funds if we are eligible.
October 2017: It has been a busy summer and we've made good progress. In July we executed license agreements with each utility company and submitted pole applications for all 1508 utility poles in Shutesbury. This step means we're on our way into the "make-ready" process.
National Grid, Eversource and Verizon will be evaluating the condition of each of the utility poles then performing the necessary work on the poles to repair, replace and/or move existing equipment to make room for our fiber optic cable. Unfortunately the timing of this aspect of the project  is out of our control since it is performed by the utility companies and their vendors. Shutesbury was one of the first towns to submit their applications so we hope this will expedite our process.
While the make-ready work is happening we'll be working with Westfield Gas & Electric on our design and engineering plan and construction bidding so that the network can start being built next year as soon as the make-ready work is complete. This fall, you will see workers out on the roads from the design and engineering firm as well as representatives from the utility companies.
Many people have asked which areas of town will be built first but we are unable to answer this until after the design and engineering plan is complete. However, we will be working with the engineers on a build sequence that will allow us to "light up" areas as they are complete so residents don't have to wait for the completion of the entire project to get service. We are currently on track to begin offering service to the first areas towards the end of 2018 but much of this schedule depends on the utility companies completing their work on the poles.
June 27th: Lt. Governor Karyn Polito visited Shutesbury to check on broadband project status in Western Massachusetts. She emphasized that municipal projects to bring broadband to residents have the full support of the state leadership under Governor Charlie Baker.
June 5th: The EOHED has approved our grant! We expect to receive the first portion of our grant money before the end of this fiscal year (June 30). In the meantime, we are moving forward with our attachment agreements with the utility companies in order to get the utility poles ready to accept our fiber-optic cable.
May 8th: We were one of the first towns to submit our grant application to EOHED (Executive Office of Housing and Economic Development), the government agency now responsible for managing Last Mile funds.
While we are waiting for approval we've already hired a professional technician who will prepare and submit our pole applications to the utility companies so the make ready work can be done this summer. We want to extend another thank you to all of you who participated in the townwide pole surveys in 2014. This information has proven to be extremely valuable as we're comparing the professional surveys to our townwide data collection. We're the only town in Massachusetts who did their own pole survey and have this type of comparison data.
We will meet with Westfield Gas & Electric to hear their proposal to design, engineer and build our network. Construction would begin as soon as possible after the make ready work is done. Our goal is to start lighting up houses by the end of 2018 with project completion in 2019.
March 28th: Thanks to everyone who attended the Special Town Meeting and vote on March 28th. Our five member MLP board has been created.
The Shutesbury Municipal Light Plant Board (MLP), in cooperation with the Broadband Committee and the Shutesbury Select Board, is currently working on building a municipal broadband network.
The plan is to connect all homes in town to the internet via fiber optic cable. Fiber optic cable will provide internet access to all subscribers at speeds up to 100 times faster than average DSL, cable or satellite connections.
Our success depends on the core values of our municipal network:
Equitable: Every home, business and buildable lot in the town must be served by the network.
Financially Responsible: The funding model for the project must be realistic for our town with a prudent plan for repayment of any incurred municipal debt within a reasonable timeframe.
Affordable: The cost of monthly subscriber fees must be competitive and affordable for townspeople.
High Quality: The network must be reliable and secure, with maintenance plans to deliver ongoing quality service.
Scalable: The network must serve residents for years to come and be easily modified, updated or expanded to provide continued access as needs increase.
The project build will be paid for using a combination of taxpayer funds and state grants and will be a public utility serving the residents of Shutesbury. The network will be sustained and maintained by monthly subscriber fees.
Our goal is to have an operational network by 2019.
The purpose of the Shutesbury MLP Board and Broadband Committee is to bring high speed fiber internet to every home in Shutesbury in the most cost effective, equitable, minimum risk, high quality and expedient manner possible.
We are currently working on a plan to connect all homes in town to the internet via fiber optic cable. Fiber optic cable will provide internet access to all subscribers at speeds up to 100 times faster than average DSL, cable or satellite connections.
The five townspeople on our MLP Board work in cooperation with the four member Broadband Committee. We are a highly motivated team with prior work experience as project managers, networking specialists, database administrators, leaders, business people and information technology infrastructure designers.
You can reach the team by email at: broadband -at- shutesbury.org or call 202-266-5385
At the moment a fraction of Shutesbury residents have access to the internet via Verizon DSL, which is slow when compared with the options in nearby towns. The current DSL service is built with deteriorating electronics on old copper telephone wires. It is an outdated and limited technology that can't keep up with today's internet. Some households pay high rates for satellite-based internet, which suffers from high latency, outages during bad weather, and limits on data usage. In addition, very few parts of our town have cellular phone service. In short, we are an underserved community.
Over the last 20 years, various companies have hinted at or even promised to deliver broadband internet to Shutesbury. None of them has done so and there is little reason for them to invest in our community. Shutesbury has relatively few households and low population density so there's not an adequate return to warrant investment by commercial internet companies.
Shutesbury will ONLY get high-speed broadband through a community-based initiative.
Why This Matters
Reliable, affordable internet access is important for all residents because it brings numerous benefits to our community. Broadband internet is no longer a luxury, but rather an essential utility in the 21st century.
Financial
-To maintain the value of our homes. Many home buyers and renters will not consider a property that does not have broadband available.
-Makes work-from-home jobs and small home-based business attractive and possible.
-Can reduce household costs by bundling phone and internet service together.
Education
- Shutesbury is the ONLY town in the Amherst Regional School District whose students do not have widespread internet access. This puts them at an educational disadvantage compared to schoolchildren from the other three towns in the district.
-Students can complete research and access homework assignments online.
-Parents are increasingly expected to access children's school information online.
-Adults and children can use the unlimited resources available for online learning opportunities.
-Access to online courses and degree programs for continuing adult education.
Public Safety
-Residents can be notified about emergencies and access information critical to their safety and well-being.
-First responders can send and receive critical voice, video and data information.
-Town health and safety volunteers can receive online continuing education and certification.
Healthcare
-Access health information online
-Access to specialists regardless of geography
-Provide remote care and monitoring for patients in their own homes
-Allows elderly to stay in their own homes longer while receiving quality care
-Direct communication with your own health care providers
-Connect parents to online resources and support groups
Quality of Life
-Makes Shutesbury an attractive hometown choice
-Stay informed about town and community events
-Stream movies, television and other online media
-Pursue hobbies
-Stay connected with friends and family around the country and the world
WiredWest and Project Background
WiredWest is a cooperative of 20+ towns in Western Massachusetts which are working together to bring broadband to their member towns. Shutesbury joined WiredWest at its inception and has been an active member for over a decade.
The WiredWest cooperative was instrumental in bringing attention to the critical issue of lack of broadband infrastructure throughout the rural parts of Massachusetts and worked diligently on the state legislature's passage of the IT Bond Bill in 2014, which earmarked $50 million to help underserved areas get connected.
The Massachusetts Broadband Institute (MBI), the government organization initially responsible for managing the Last Mile program, worked with WiredWest to help create a solution. However, in 2015 the working relationship began to falter. In late 2015 the state changed its policy effectively shutting WiredWest out of the process.
This was followed by the resignation of the MBI director and a state-wide pause on all broadband projects. We launched a state-wide petition that garnered over 6,000 signatures calling for action by the Governor. In late spring 2016 the Governor's office lifted the pause, appointed new leadership at MBI and made additional changes to the state's broadband policy. The new policy allowed town-owned networks but also encouraged private-public partnerships.
Due to further public pressure to allow ready towns like Shutesbury to move forward with municipally-owned networks, the Governor removed the "grant only" program from the control of the MBI and put it under the administration of the EOHED (Executive Office of Housing and Economic Development) in April 2017. We applaud this bold change which is allowing us to move forward with our project.
After we build our network we will need to operate it in a sustainable and cost effective way. Day-to-day management will include tasks such as managing pole licenses, insurance, customer billing, tech support, system outages, maintenance and many other tasks related to owning and operating a townwide network. Membership in WiredWest reduces the burden on personnel and town resources by providing a cost-effective regional operations solution.  
The MLP, Broadband Committee, Finance Committee, and Select Board will all thoroughly vet any proposed plans, including a revised WiredWest plan, to make sure it is in the best interest of our town. If it is not, we will own and operate our own network (as Leverett does).
Many of you signed up for service and made a $49 deposit during the WiredWest pre-subscription drive. This deposit is held safely in a legal escrow account and can be applied to your first bill.  If it becomes clear over the next year that we will definitely not be using WiredWest's regional operations plan for any reason we'll send out townwide announcements with instructions on how to get your deposit back.
If you decide you do want your money back now, please visit http://wiredwest.net/campaign/refunds/ and follow the instructions (also below here).
We at WiredWest have pledged to return customer deposits with interest upon request. In order to fulfill the legal requirement to have funds removed from the escrow account where the deposits are now held, we must hear from you directly and in writing. Email does not satisfy this requirement.
Please mail a written, signed request to:
WiredWest
Old Courthouse
99 Main Street
Northampton, MA 01060
Include the name and service address used when your deposit was originally made. You should expect to receive your refund with interest within 2-3 weeks of our receiving your written request.
Disclaimer: Questions below include our best estimates and pricing models based on our current broadband plan as of Spring 2017.***WE WILL BE UPDATING THIS SECTION IN EARLY 2019 WHEN OUR FINAL BUDGET NUMBERS COME IN - PLEASE STAY TUNED***
How will this project be financed? This project will be funded by our taxpayer dollars and a major Massachusetts state grant. The network construction cost to Shutesbury is estimated to be $1.7 million. Shutesbury taxpayers authorized borrowing for this amount both at the Annual Town Meeting held in May 2015 and in a debt exclusion vote in June 2015.
Will Anybody Be Left Out? No. You can choose whether or not to sign up for service, but if you live in Shutesbury, the network will be available to you as a subscriber.
How much will my taxes increase? The estimated tax increase for an average single family home ($243,000) is $153 per year (about $13 per month).
We're using the highest tax increase possible in this estimate. The estimates used reflect the "worst case," or "not-to-exceed" tax burden to our town to build the network. Ongoing maintenance, service and operations costs will be covered by subscription fees after the build is complete.
We expect many households to save on monthly telephone and internet bills to compensate for the potential tax increase.
EXAMPLE MONTHLY COST FOR AVERAGE HOME ($243,000):
Average current expenses

Average potential future expenses

Phone

$60

Phone

$25

Satellite Internet

(1-3 Mbps)

$79

High-speed Fiber Optic Internet

(25 Mbps)

$75

 

 

Ave. Added Real Estate Tax

$13

TOTAL

$139

TOTAL

$113
For the average household in this example, we expect a savings of about $25 per month or around $300 per year – for much better service and speed than what you have now.
How much will the monthly subscription cost? The monthly fee depends on which kind of service you choose. Internet only plans will be around $75 per month. Internet plus full-feature phone with nationwide long distance, caller ID, voice mail and other special features will be around $95 per month. Super-fast internet up to 1000 Mbps as well as business and multiple phone line services will likely be available for additional charge or you can choose an economy internet-only plan for around $59 per month.
What about TV? Will I be able to get television service through the high-speed internet that is coming to Shutesbury?
In short, yes. You will have various options.
History - traditional options: The delivery of TV service is changing rapidly nationally - and more and more television is moving to the internet. In the early days, all TV came through the airwaves, at no charge. Then cable companies (Charter, Comcast, Time Warner, et al.) came along and distributed TV at a fee (and with a municipal monopoly) on cabling that they owned and maintained. To compete with that, and for those of us without cable, TV was then offered from (expensive) satellite delivery, through companies like DirecTV and Dish. Satellite options charge for the delivery of content and for the content itself, at high prices.
Now - Over the Top: As a result of the wide availability of broadband internet, media companies are now choosing the internet as their preferred delivery vehicle for the future. DirecTV has just announced DirecTV Now, offering equivalent packages as from their satellites, but coming into your home via your internet connection. Packages start at $35/month. Similarly, Dish Network has offered SlingTV, with basic packages of $20-40/month. Hulu and others are reportedly prepping similar packages for public release. These "over the top" (means television that is delivered over the internet) bundles look almost identical to cable packages. The word "almost" is used here because the bundlers have to negotiate with the content creators (ABC, NBC, CBS, HBO, ESPN, et al.). The gaps in packages are due to early phase snags in negotiating the licensing of the content - most expect that this will be cleared up in the next year or so as more and more consumers prefer the lower costs and convenience of internet delivery.
For example, CBS offers streaming service, but NBC and ABC have not yet launched theirs. DirecTV Now and SlingTV have some missing channels in their streaming packages, due to the negotiation of content licensing (see this article for who had what as of Dec 2016). We anticipate that by the time Shutesbury's high speed internet is operational, most of this will be settled, and you will have a wide range of options for TV - "over the top."
Note that there are some shows currently that ONLY available over the top, such as Netflix series. You currently can't watch Netflix shows through cable or satellite packages.
So how does it work? If you're getting your television signal via the internet, you will still watch TV directly on your TV. It doesn't mean you have to watch TV on your computer! Most TVs now come "smart" - ready for internet-delivered content. In addition, Apple TV, Roku, Chromecast, Amazon Fire Stick, and others are small, inexpensive devices that connect older TVs to the internet (DirecTV Now can use most of these, and will currently give you a free Apple TV or Amazon Fire Stick if you commit to 3 months of service!). These devices act just like your cable box where you can use a TV guide listing of channels. It also and it comes with remote control, recording, etc.
Additionally, the internet allows the possibility of unbundling - a la carte options where you can just choose the specific channels you want. Cable and satellite bundles often include a relative few interesting channels and hundreds of paid advertising channels (Home Shopping Network, QVC, Jewelry Television, etc). Individual content providers now offer "over the top" subscription packages, so that you can pick and choose what you get. For example, "CBS All Access" offers all CBS content (including their NFL games) for $5.99/month with commercials or $9.99/month – all commercial free(!). ESPN and MLB networks also offer content so you can get national sports. You can stream shows live while they are broadcast nationally or at a later time at your convenience. Watching shows later, even just a bit later, allows you to stream the show without commercials.
With a la carte or bundled packages, you can also typically access shows from your smart phone, tablet, or computer when you are away from home with a high speed broadband internet connection. While at home, it also means that just about any device can become a television. And finally, the "over the top" solutions typically do not require annual contracts like cable and satellite. As options change, you can change your packages to best suit your needs.
But I thought that regular TV packages were going to be available? Yes. WiredWest was planning on delivering traditional television packages initially in 2015. However, because of the state policy changes mentioned above this became impossible, since each town is required to own its own infrastructure. Towns on their own cannot afford the equipment and licensing fees required to deliver TV the traditional way. However, as mentioned above, the landscape of television delivery is changing very fast due to the evolution of technology. There may be other ways we can deliver more traditional television by banding together with other towns. Our primary directive is to deliver internet to all residents, and if it is possible we'll do our best to add that to the list of services. In the meantime, with internet access you'll always be able to get TV shows by downloading them (see above).
Can I just get telephone service only? You must subscribe to internet service. The other services "ride" on the internet. You may select internet alone or internet plus phone.
I already have DSL at my home. Why do I need this? The internet itself is constantly evolving. Websites are adding features, videos and other content which require a fast connection to run. Remember the days of dial-up and how there were some websites that either took forever to load or wouldn't load at all? That will become the plight of regular DSL as web content evolves and becomes more sophisticated. The DSL speeds we have in Shutesbury now (1-3 Mbps) likely will have trouble handling the internet that's coming in the next few years. Even now, many Shutesbury residents cannot load data-heavy websites or stream video content through their current DSL service at certain times during the day when system usage is high. Read more about the phasing out of DSL here.
I don't use computers or the internet. Why should I care about broadband? Even if you don't use the internet yourself there's a compelling reason to support the plan and that's home value. Many of our residents have already encountered difficulty selling or renting their homes because fewer and fewer people are willing to move to an area that lacks adequate internet service. When it's time to sell your home you'll possibly receive up to20% less if high-speed internet isn't available. (Source: The Guardian [New York] 1 Mar. 2014: "Fast broadband now considered vital by increasing numbers of homebuyers." Online. Estimate confirmed by professional local realtors at Jones Realty, Amherst, Massachusetts.) Read an article in the Greenfield Recorder here about how the lack of internet is affecting our area.
How Soon Will I Have Broadband? A project of this scope requires many complex decisions and financial arrangements, as well as the involvement of private and public entities all working together. We know how critical internet is to our town and are doing everything we can to move the project forward expediently. Our goal is to start lighting up homes in late 2018 with project completion in Spring 2019.
Why is this taking so long? We've received this question more than a few times! The answer is cost and the complications of state government. After the state legislature passed the $50 million IT Bond bill the governor's office went through a change in leadership. The new administration had different ideas about how the Last Mile Grant should be administered. The changes and indecision have meant that no new broadband builds were started in the state of Massachusetts from 2014 - 2017. Shutesbury and all other underserved were left waiting.
We could have moved forward sooner, but in order to do so on our own timetable without state involvement, we would need to forgo most of the state's financial aid and authorize borrowing for an additional $890,000. There is no guarantee that the state would have reimbursed Shutesbury for these costs. Taxpayers would have to cover the FULL AMOUNT already authorized PLUS and an additional $890,000. Our town financial situation meant that we really needed to wait for the funding.
Will there be an installation fee? After we know the final construction costs for the entire project we'll be able to draft the installation fee policy and determine costs for homeowners. Our goal is to create a fair and affordable installation process so as many people in Shutesbury as possible will subscribe and be part of the Shutesbury network.
Why are we using taxpayer dollars for this? Shouldn't a private company cover the costs? Over the last 20 years, various companies have had the chance to deliver broadband internet to Shutesbury. None of them have done so and there is no reason to expect them to invest in our community now. Shutesbury has relatively few households and low population density so there's not an adequate return to warrant investment by commercial internet companies.
Can I keep my existing Verizon phone / DSL service? Yes. You are under no obligation to use any service provided by the town. However, Verizon has stated publicly that they plan to phase out DSL service for existing customers.
What Parts Of This Cost Money? Building the network involves paying for many different aspects of a town-wide infrastructure project. It is similar to bringing electricity to every home. Costs include:
A network design - i.e. where the fiber will run and what splitters or other equipment is needed. The design is also a prerequisite for making detailed cost estimates.

A project manager or project management company to coordinate and schedule the work, ensure contractors are paid, ensure work is completed on-time and correctly, and be responsible for the details of the project

Police details during construction

Pole application fees to Verizon and National Grid/Western Mass Electric. The application fees are required when the town use's the utility companies' existing poles.

"Make ready" work done by Verizon and National Grid/Western Mass Electric. This involves moving their existing equipment where necessary and preparing their poles for the addition of our fiber optic cables.

The fiber itself and other hardware and technology components to build a fiber infrastructure.

Labor and electronics to actually install the fiber on poles and connect it to our homes.
Who Will Own The Resulting Infrastructure/Network? Our town will own, manage and maintain the resulting network.
What About Municipal Wireless? The Shutesbury Broadband Committee does not endorse any wireless solution because wireless internet depends on line of sight, is affected by weather, and is far slower than fiber-optic networking. It has the same problems as cellular telephone reception.
Please read this article for an explanation of why wireless networking is not a realistic solution to bring broadband to all of Shutesbury. Want more? Download the Wireless Primer for Western Massachusetts Towns.
How Will the Data From the Townwide Pole Inventory Be Used? A pole inventory is an essential first step to any fiber network design because the fiber will ultimately be hung on the poles that are co-owned by Verizon and National Grid/Western Mass Electric.
Shutesbury is the only town in the region that performed a pole inventory on its own. Over 60 volunteers participated in November 2014 to complete our goal of inventorying over 85% of the town's utility poles. The information collected was used to develop a preliminary cost estimate for the project. Two years later we are still referencing the data collected during this important event as we plan the design.
Special thanks to our community sponsors for the event: Whole Foods, Jones Realty Group, Staples, Target, Stop 'n Shop, Marshalls, Glazed Doughnuts and The Shutesbury Athletic Club.
What's so great about high-speed fiber compared to other internet services? The term for internet speed is "Mbps" which means "megabits per second." In Shutesbury the highest speeds available now are 1-3 Mbps. Our townwide fiber optic network will deliver speeds of 25 Mbps to 1 Gb, and more. These high speeds mean you can work, surf the internet or stream movies and your kids can do research for a school project all at the same time - with no reduction in speed regardless of the time of day. Unlimited data means you won't be charged extra no matter how much you use the internet. Whether you're working from home on a snow day or enjoying a movie with your family, a fiber network will deliver the speeds you need.
Axia - Axia is the company contracted by MBI to administer the "middle mile" network.
Backhaul Network - the connection between a local network and the wider world of the internet.
Fiber Optic – The type of cable that allows high-speed internet to be delivered through it. Fiber optic cables are actually thin flexible transparent solid fibers that allow signals of light to pass through them and are used mostly for telecommunications purposes.
Last Mile - term used to refer to connections between a point of presence of the Middle Mile fiber optic backbone and individual households. It is the last leg of a network.
Latency - the time it takes for data to reach a destination independent of the speed of travel. Satellite internet suffers from high latency. An analogy is turning on a garden hose and waiting for the water to reach you. That delay is the latency - and is the same phenomenon seen with satellite internet - you click a link, and after waiting for a while the page arrives. Fiber internet has the advantage of little or no latency.
Massachusetts Broadband Institute (MBI) - MBI is a quasi governmental organization funded by state and federal grants.  MBI has succeeded in bringing the "middle mile" network to the centers of many communities in Western Mass, including Shutesbury.
Middle Mile - the set of fiber optic cables that connect points of presence in towns with the internet backbone. Completed in early 2014 by MBI and paid for by state and federal grants, the Middle Mile gives high-speed internet access to critical town buildings such as police and fire stations, libraries, town halls and schools. The Middle Mile backbone was expected to allow Last Mile projects to connect residential homes.
Municipal Lighting Plant (MLP) - A legal entity under Chapter 164 of Massachusetts General Laws, which authorizes the town to deliver telecommunications services, including internet service as a public utility. Shutesbury has an MLP already established for this purpose.
Point of Presence (POP) - the place where fiber optic lines to households connect to the cable that runs out of town and connects to the wider internet. Usually located in a central place in a town, such as town hall or town center.
Request For Proposals (RFP) - The formal process by which a town requests bids from contractors to do work
Take Rate - the percentage of households in an area with a network who actually subscribe to use the network. Having an accurate estimate of this is important to be able to predict sustainability and secure financing.
Wired West is a Municipal Lighting Plant Cooperative of 20+ towns in Western Massachusetts who are working together to bring broadband to their member communities.
Shutesbury Broadband Committee Annual Report July 2016-July 2017
Shutesbury Broadband Committee Annual Report July 2015-July 2016
Shutesbury Broadband Committee Annual Report July 2014-July 2015
2017 - 2015 - See Meeting Minutes section to the right of this page
Earlier archived minutes are available upon request.
Please email broadband@shutesbury.org
Invitation for Bid Complete_1_29_19_Final.pdf
General Conditions IFB Contract_1_29_19_FINAL.pdf
PrevailingWageShutes1251920190124-060.pdf
Expected Duplex Installations.xlsx
Shutesbury Bid Questions_Answers.pdf