The purpose of the Shutesbury Broadband Committee and the Municipal Light Plant Board is to bring high speed fiber internet to every home in Shutesbury in the most cost effective, equitable, minimum risk, high quality and expedient manner possible.
The MLP Board is the official legal decision-making body of ShutesburyNET and is comprised of three elected officials. The Board is advised and assisted by the Broadband Committee.
The MLP Board and Broadband Committee are a highly motivated team with prior work experience as project managers, networking specialists, database administrators, leaders, business people and information technology infrastructure designers.
You can reach the team by email at: broadband -at- shutesbury.org
The Broadband Team: Gayle Huntress, Steve Schmidt, Craig Martin, Graeme Sephton, Jim Hemingway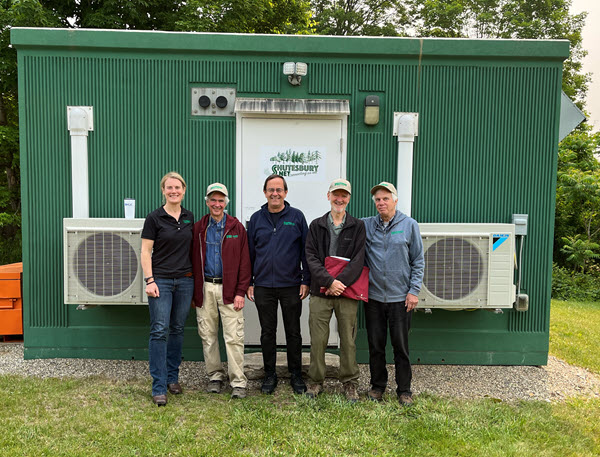 Broadband At a Glance
Our municipally-owned fiber optic cable network brings internet access to all subscribed town residents at speeds up to 100 times faster than average DSL, cable or satellite connections. Our success depends on the core values of our municipal network:
Equitable: Every home, business and buildable lot in the town must be served by the network.
Financially Responsible: The funding model for the project must be realistic for our town with a prudent plan for repayment of any incurred municipal debt within a reasonable timeframe.
Affordable: The cost of monthly subscriber fees must be competitive and affordable for townspeople.
High Quality: The network must be reliable and secure, with maintenance plans to deliver ongoing quality service.
Scalable: The network must serve residents for years to come and be easily modified, updated or expanded to provide continued access as needs increase.
The project has been paid for using a combination of taxpayer funds and state grants and acts as a public utility serving the residents of Shutesbury. The network is sustained and maintained by monthly subscriber fees.
Why Broadband?
Here is nice video summary of why it was necessary to build a municipal network in Shutesbury: VIDEO
And here is a great overall summary of what broadband is and why it is important: INFO PAGE
At the moment a fraction of Shutesbury residents have access to the internet via Verizon DSL, which is slow when compared with the options in nearby towns. The current DSL service is built with deteriorating electronics on old copper telephone wires. It is an outdated and limited technology that can't keep up with today's internet. Some households pay high rates for satellite-based internet, which suffers from high latency, outages during bad weather, and limits on data usage. In addition, very few parts of our town have cellular phone service. In short, we are an underserved community.
Over the last 20 years, various companies have hinted at or even promised to deliver broadband internet to Shutesbury. None of them has done so and there is little reason for them to invest in our community. Shutesbury has relatively few households and low population density so there's not an adequate return to warrant investment by commercial internet companies.
Shutesbury will ONLY get high-speed broadband through a community-based initiative.
Why This Matters
Reliable, affordable internet access is important for all residents because it brings numerous benefits to our community. Broadband internet is no longer a luxury, but rather an essential utility in the 21st century.
Financial
-To maintain the value of our homes. Many home buyers and renters will not consider a property that does not have broadband available.
-Makes work-from-home jobs and small home-based business attractive and possible.
-Can reduce household costs by bundling phone and internet service together.
Education
Prior to our network construction, Shutesbury was the only town in the Amherst Regional School District whose students did not have widespread internet access. This put them at an educational disadvantage compared to schoolchildren from the other three towns in the district.
-Students can now complete research and access homework assignments online.
-Parents can now access children's school information online.
-Adults and children can now use the unlimited resources available for online learning opportunities.
-Online courses and degree programs for continuing adult education are now accessible to all ShutesburyNET subscribers.
Public Safety
-Residents can be notified about emergencies and access information critical to their safety and well-being.
-First responders can send and receive critical voice, video and data information.
-Town health and safety volunteers can receive online continuing education and certification.
Healthcare
-Access health information online
-Access to specialists regardless of geography
-Provide remote care and monitoring for patients in their own homes
-Allows elderly to stay in their own homes longer while receiving quality care
-Direct communication with your own health care providers
-Connect parents to online resources and support groups
Quality of Life
-Makes Shutesbury an attractive hometown choice
-Stay informed about town and community events
-Stream movies, television and other online media
-Pursue hobbies
-Stay connected with friends and family around the country and the world
A customer satisfaction survey in December of 2020 revealed that 91.15% of ShutesburyNET customers are "very satisfied" or "satisfied" with their municipal internet and phone service and 86% think it is good or great value. We are proud of our municipal telecommunications network and will continue to improve it in the years to come. Thanks to everyone for your support of this town service!
The ShutesburyNET Broadband Team along with our Internet Service Provider and Network Operator partners from South Hadley Electric Light Department and Holyoke Gas & Electric.