2011 was Shutesbury's 250th Anniversary!
And what a year it was -- thanks to all of you!
Our goal was to celebrate all year long, with nature-oriented, historical and art/cultural activities every month. Our focus was to celebrate not just Shutesbury as a whole, but to recognize and nourish the diversity and talents of the many vibrant, smaller communities within our town. See list of events
 Of Note
Click here to view a page containing a selection of scenes from our 250th Anniversary events

Check out the special song written for the 250th anniversary here! A big thanks to Sabra MacLeod and Gale McClung for writing it!
See the 71 slogans

 suggested for our year of celebrations.

Thanks to Stephen Ervin for designing the 250th anniversary logo!
Click here to download the Podcast of Leo Richard's talk on the Shays' Rebellion, given March 10, 2011.
Keep the year alive with anniversary memorabilia
A 1911-2011 Commemorative Album -- a "pictorial souvenir" from Shutesbury's 150th anniversary in 1911 re-issued and enhanced with new
text and photos of the same scenes 100 years later. The album comes bundled with a CD of other images from our anniversary year!
Shutesbury's June 11, 2011 Anniverary Parade
The Tavern of Time -- a dramatization of Shuitesbury history performed at Celebrate Shutesbury in September 2011
Roadtown Review: A Shutesbury Sampler -- an original musical performed by students at Shutesbury Elementary School in December 2011.
Email us at 250th@shutesbury.org to arrange a time to meet a committee member at Town Hall to select the items you will want to save for posterity!
How Old Are We, Anyway?
Look at Shutesbury's town seal at the top left of your screen, and you'll see 1735 — the date of the founding of Roadtown, after the General Court of the Massachusetts Bay Colony granted land to people building a road from eastern Massachusetts to the Connecticut River.
But you'll also see 1761 — the year that Roadtown was officially incorporated as Shutesbury.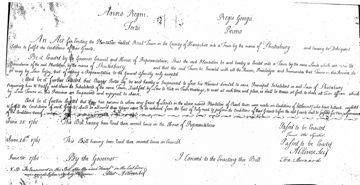 1761 Incorporation Document (click image for larger view)
That's why in the spring of 2009, the Select Board appointed a steering committee to prepare and recommend a program of festivities to mark the 250th anniversary of Shutesbury's incorporation. And we hoped to make 2011 a year you'll remember 'til at least 2061!
Minutes 
2017
Mar 10