---
2022 State Primary Election
When: Tuesday, September 6 2022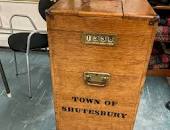 Where: Shutesbury Town Hall, 1 Cooleyville rd, downstairs
---
Vote by Mail
Any registered voter has the option to vote by mail in Massachusetts, for any election. If you would like to vote by mail in the September Primary, submit an application to the Town Clerk Office. 
Applications for Vote by Mail must be received no later than Monday, August 29th, by 5pm. 
Important: Remember to sign your application! And if you are not affiliated with a political party, you must choose either a Republican Primary ballot or a Democratic Party ballot on your application. 
If you have any questions about the application or your mailed ballot, contact the Town Clerk. 
---
In Person Early Voting
No application necessary! Just bring yourself!
When: 
Saturday, August 27: 1pm to 5pm
Monday August 29: 11am to 1pm
Tuesday August 30: 11am to 1pm
Wednesday August 31: 11am to 1pm
Thursday September 1: 11am to 1pm
Friday September 2: 11am to 1pm
Where: Shutesbury Town Hall, 1 Cooleyville rd, downstairs
---
Voter Registration
The deadline to register to vote for the September Primary, if you are not already registered to vote, is Saturday August 27th by 5pm.