You can create News and Update items for the Shutesbury Town website in just a few steps.
Step 1: Login to your Shutesbury.org account.
Step 2: In the upper left menu, select Content, then Add Content, then News and Updates.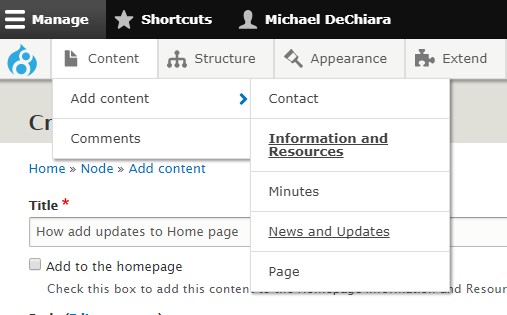 Step 3: A form will appear. You add the information that you need for your News/Update
Give it a Title
In the body, put whatever information you need or want. You'll have an editing menu to add formating, pictures, hyperlinks, etc.
If you want to associate it with a committee so people can search for it, add the Committee Tag. You may add more than one tag (see Add Item)
Important: Check the box that says "add to homepage"
Give it an expiration date and time. This will let it come off the homepage automatically; once posted you don't have to take it down.
If you want to have it posted to a Committee page as well (see above), set an expiration date for that as well. The Homepage and Committee expiration dates can be different.
Step 4: At the top of the "Body" section, you will see Body (Edit Summary). Click on the edit summary (in blue). This will let you create a 1-2 sentence summary that viewers will see. If they click on it, they will see the full information you just provided.
Step 5: Save.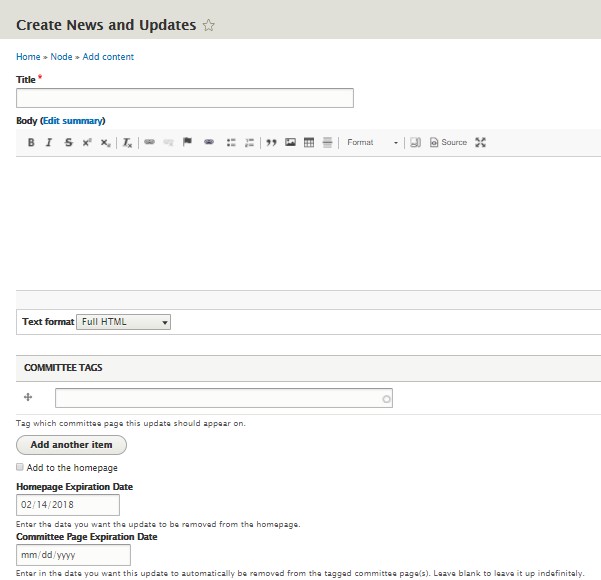 Step 6: Optional. If the item you are posting is important, on the right side of the screen, click on Promotion Options. Check the box for "Sticky at top of lists". This will put and keep this at the top.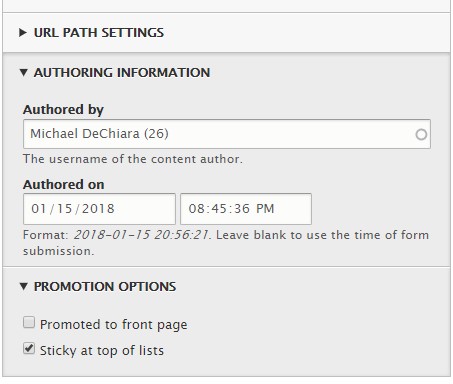 **Congratulations you now know how to post a news item or update to the Town website.